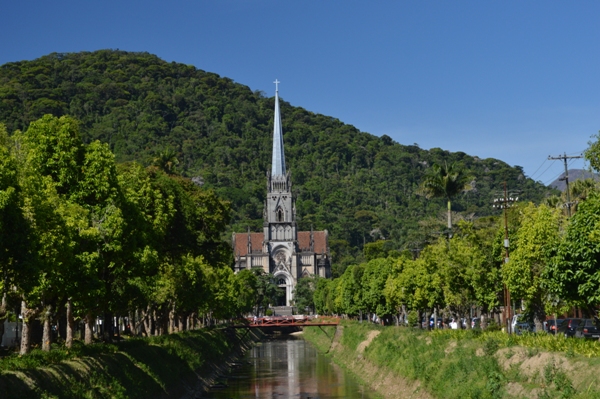 Grand 19th-century mansions and a gothic cathedral are not the first images you're likely to associate with a Brazilian town, but when you arrive in Petropolis, barely an hour from the beaches of Rio (depending on your luck with the traffic), it feels rather like having dropped in a European alpine town.
Petropolis – How it all began
Petropolis was founded as a result of a royal accident of fate. In 1830 the Brazilian Emperor Pedro I was on his way from the national capital in Rio to the gold mines of Minas Gerais. He had stopped along the way at a farm belonging to a priest, and Pedro was enchanted by the mountain views and clean air (at that time Rio had a serious problem with mosquitoes) . Being an emperor he immediately decided that he would set up his summer retreat there. Even though the priest refused his offer to buy the land (a brave or foolish act), he bought the neighbouring farm instead and started making plans to build his summer home there. He didn't survive to see his plans come to pass, but his son Pedro II continued to turn his father's dreams into reality. He moved his residence to Petropolis, and was soon followed by the rich and powerful Brazilian elite. With sweltering temperatures, malaria and an ever-present stench, the social elite eagerly took the chance to get out of Rio and stay close to the emperor. Petropolis soon grew up around these grand homes and an imposing church was erected in French neo-Gothic style which would grace any European capital.
Pedro's Palace
The Imperial Palace was home to the younger Pedro and his wife Teresa Cristina for many years, and is now preserved as a museum which sheds light on Brazil's 19th-century Imperial years. If the stories are to be believed, Pedro was an extremely popular ruler; even now Brazilian history looks back kindly on his legacy. The architects and designers of the palace clearly absorbed many European influences in their designs, and yet it lacks the opulence of Versailles in Paris or the Hofburg in Vienna, with Pedro opting for a more modest palace in keeping with his character.
Outside the palace the sunny streets of Petropolis are lined by white mansions which sit behind tall black railings, surrounded by manicured lawns and hedges. Some have been converted into a luxury hotels and restaurants, while others are being used as government buildings. The Cathedral, looking every bit like a Norman church in an English or French town, houses the mausoleum of Pedro and his family. Perhaps the most striking structure of all is the Crystal Palace, inspired by the 19th-century London creation which no longer exists, with its blue-tinted glass and decorated white roof looking every bit like an over-sized greenhouse.
Alberto Santos-Dumont
The famous legacy of Petropolis extends beyond the country's rulers; the city was also home to Brazil's most famous aviator. Ask a Brazilian who was the first man to fly and you'll only get one answer; the Wright Brothers will not get a mention. Alberto Santos-Dumont earned worldwide fame in 1901 when he flew his dirigible around the Eiffel Tower and landed safely nearby to collect the Deutsch de la Meurthe prize of 100,000 francs. He is considered a national hero and the domestic airport in Rio de Janeiro bears his name. Despite his successes, it's highly likely that Santos-Dumont lived in Petropolis in relative obscurity, given that his neighbours were some of Brazil's most powerful and influential people.
Inside his modest house in the centre of Petropolis there's a small museum dedicated to Santos-Dumont's remarkable flying exploits. And yet his story is one with a tragic ending: he committed suicide in 1932 after years of depression. His friends said that this was caused by him witnessing the horrors of aerial bombing and realising that the knowledge he spent his life developing had been used for a murderous purpose.
While Pedro and the Brazilian movers and shakers may have come to the mountains for fresh air, there's less of that about in today's Petropolis as heavy traffic chugs its way through the streets. Yet it still offers a contrast from the noise and chaos of Rio and remains a place that holds a special place in Brazil's relatively short history as an independent nation.
Petropolis can be visited as a day trip for Rio de Janeiro, as part of Sunvil Traveller's 14-night Highlights of Brazil itinerary, or as part of a tailor-made itinerary.