As you are about to walk across Richmond Bridge, take the steps down to the river promenade and you will see a bust of someone called Bernardo O'Higgins. You've probably never noticed, but take a closer look because Bernardo O'Higgins is one of the most famous men in South America and an important part of the continent's history. Bernardo O'Higgins, who came from a wealthy Chilean family, liberated Chile from Spanish rule, became its Supreme Director, created the Republic, set the foundation for peace and introduced great social and economic reforms. He lived in Richmond-Upon-Thames as a student in Clarence House between 1795 and 1799. He left Richmond when he was 20, to found what is now the most stable republic in South America, and he was very pro British
Santiago is perhaps the most underrated capital city in South America. With a population of 6 million, it is located at 567 metres above sea level in the central valley. It nestles between two mountain ranges, the Andes towering to over 4,000 metres to the east and the Chilean Coastal Range to the west. The climate is typically Mediterranean, with long dry summers and cold winters. The Pacific Ocean, at Valparaiso, is 135 km away.
Santiago has something of Rome, something of London, something of Paris. It is a green city, with gardens donated by Spain, Britain, France, Italy and Germany. Irish names feature prominently, with O'Carroll and O'Brien having played a part with O'Higgins in the country's history. In the 19th century, eight thousand families from Britain, Germany, Greece, Russia, Croatia, Spain, France and Italy settled in Chile, helping to create what is, along with Buenos Aires, Latin America's most cosmopolitan city.
Santiago is probably the safest city in South America. There is no racial discrimination, first and perhaps foremost. Its wines, developed by the French, who settled in Chile after the Phylloxera epidemic wiped out European vines, are some of the best in the world and the UK is the country's largest market. The Chileans never allowed slavery; they are equally respectful of dogs which, whether strays or not, are fed, watered and kindly treated.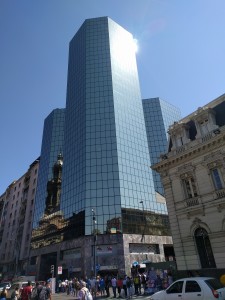 Chilean society is conservative and stable; as a result, Santiago is the financial capital of South America. The country's wealth comes from mining and farming and Britain has been a significant investor. Some 14% of the population has British ancestry. Lord Cochrane founded the Chilean Navy in the early 19th century and the first Chilean newspapers, plus horse racing and its oldest football clubs, were also British introductions.
You will realise, having read this far, that I was very impressed by Santiago. It is a vibrant, welcoming city, with excellent restaurants, top-quality shopping and it's an absolute delight to explore. At heart it is a Spanish city, with 45% of the population of Spanish descent, but it is also a most successful melting pot of cultures and customs. Santiago should, in my view, be considered a vital part of any Chilean itinerary.