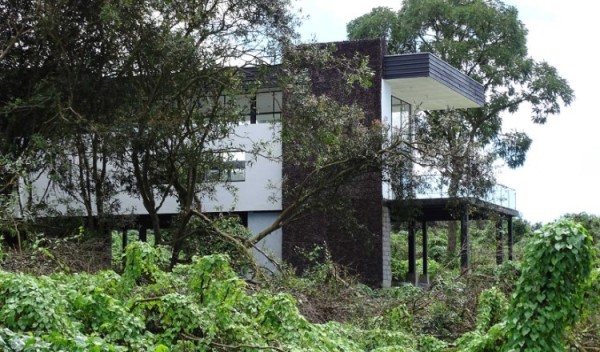 A holiday in the Galapagos Islands offers a unique opportunity for visitors to come face-to-face with animals and plants which exist nowhere else on Earth. The majority of those coming to explore the islands will stay on a boat, but in recent years the options for land-based accommodation have slowly increased. A new property which opened in late 2015 offers a safari-style tented camp on the slopes of a volcano.
Scalesia Galapagos Lodge is on the island of Isabela, the largest within the Galapagos archipelago and home to six volcanoes. The camp has been designed to offer both a sense of luxury and an intimate encounter with the natural wonders of the island. It sits within an enormous area of forest, and the tents offer a spectacular view beyond the canopy to the coast and the distant islands. There are only 16 'tents' in total, and all have hot-water showers and modern bathrooms, as well as hardwood floors and king-size or twin beds. The main lodge is a solid construction with 3 separate social areas for relaxation and reading, as well as a restaurant serving breakfast and evening meals. A series of pathways wind their way through the forest and connect the lodge to the sleeping quarters.
While the lodge offers something different (and an attractive land-based option for those who prefer to sleep away from the ocean) it is the islands and their flora and fauna that that will always be the highlight of a Galapagos holiday. Scalesia Lodge offers a comprehensive activity programme which takes in many of the natural wonders of Isabela. Some of the activities are included within the cost of a package: there's a snorkelling trip to an area of lava rocks known as The Tunnels, where visitors have a good chance of encountering white tipped reef sharks, as well as blue-footed boobies and iguanas. Another boat excursion offers the chance to see penguins and turtles just off the coast. There are also opportunities to explore the island itself, with a 6-hour hiking tour on Sierra Negra, one of the world's largest volcanic craters.
If the included activities are not adventurous enough, there are other options which can be arranged at the lodge for a fee. These include kayaking, surfing, scuba diving and private boat charters to other islands.
The lodge offers fixed 3-night (Thu-Sun) and 4-night (Sun-Thu) packages which include half board (breakfast & dinner), a programme of guided excursions (some of which are described above) and return transfers from the airport or port at Puerto Villamil, the main town of Isabela around 20 minutes' drive from the lodge.
See the Sunvil Traveller site for more information and ideas on holidays in the Galapagos Islands.