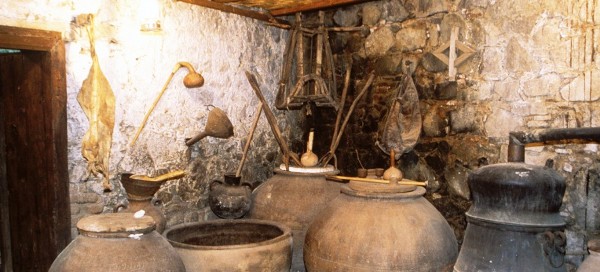 Take a look at a map and you'll quickly see why Cyprus has seen so many invasions over the years. Within easy reach of Greece, Turkey, Egypt and Israel, it has been occupied by a succession of powers keen to have a strategic base in the centre of the Eastern Mediterranean. Greeks, Romans, Persians, Venetians and even the British have left their mark on Cyprus, and the result of these occupations is a land rich with historical treasures. A gentle drive around the island will reveal no shortage of fascinating discoveries from Cyprus's colourful past. The big cities of Paphos, Larnaca and Nicosia each have well-known historical attractions, but there are also many lesser-known sites which are easily accessible by car. Here are just a few suggestions:
Khirokitia
Just off the motorway around halfway between Larnaca and Limassol, Khirokitia (or Choirokoitia) is the remains of a Cypriot Aceramic Neolithic settlement, dating back over 7,000 years. The artefacts on show suggest a sophisticated society which disappeared suddenly and without obvious explanation.  The more recent part of Khirokitia has ruins from the days of the Knights Templar.
Tenta
Just down the road from Khirokitia is another neolithic settlement about which many mysteries remain. The site at Kalavasos Tenta is believed to be around 7,000 years old. It remains a working archaeological site and recent finds include stone pots, and jewellery made from picrolite, a smooth green stone found in a local river bed.
Ancient Amathus
On the eastern outskirts of Limassol, the ancient city of Amathus was at one time one of the major trading cities on the island. Legend has it that Theseus and Ariadne were shipwrecked here and Ariadne was eventually abandoned by her minotaur-slaying man. What is not disputed is that the Persians, Phoenicians and Greeks dominated the city at various times, before it was eventually abandoned in the 7th century AD. The most important site at Amathus is an acropolis, now dominated by the ruins of a Roman temple to Aphrodite, but with origins dating back over 3,000 years.
Kurion
To the other side of Limassol are the ruins of the city of Kourion, founded in the 13th century BC. Its importance is such that it even gets a mention in an Egyptian inscription during the time of Ramses III (around 3200 years ago), as a place on his 'wish list' for occupation. While the origins of Kourion pre-date the Romans by some 1000 years, it is the Roman legacy which prevails, with Roman tombs, a nymphaeum and house believed to belong to a gladiator, with mosaic depictions of a gladiator battle.
Kolossi Castle
For those preferring their history a little more recent, Kolossi Castle (not far from Kurion and a few minutes' drive from central Limassol) is one of the best preserved medieval castles in the Mediterranean. The current building was erected in the 15th century, and you can wander across the drawbridge, up and down the spiral staircases, and around the battlements.
Sunvil Holidays offer a 9-night Cyprus – An Open Air Museum fly-drive itinerary, which is entirely flexible but can take in any of these sites.