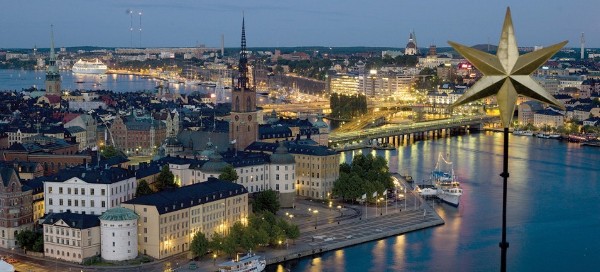 Stockholm has long been regarded as one of Europe's top city break destinations, thanks to its selection of top quality restaurants, its rich calendar of cultural events and its long summer nights. But it's also been labelled by many as a prohibitively expensive place to visit. While it's true that some of the prices you'll encounter around the city will make your eyes water, a little planning can go a long way to making a visit to Stockholm not only memorable, but also highly affordable.
Many of the museums in and around Stockholm now offer free admission, and even those visitors with only a passing interest in museums are likely to find something to tempt them indoors during their stay in the Swedish capital. Here are 6 museums which offer free admission to all visitors:
Swedish Museum of Natural History and Cosmonova
With an impressive collection of dinosaurs, rare animals and ancient fossils this is a great place for a family visit; there's a special focus on Sweden's Arctic regions. While the permanent exhibitions are free, there's a charge for the museum's planetarium and IMAX theatre. http://www.nrm.se/english.16_en.html
The Swedish History Museum
For grown-ups there's the chance to learn about the Vikings, about Sweden's years as a mighty trading nation and naval power, and about the country's many colourful rulers. For younger visitors there's the opportunity to dress as a Viking and take part in Viking games. Visitors can decide for themselves how grown-up they want to be. Entrance is free to all sections; visitors can choose to pay for a guided tour or an audio guide (cheaper if you download the guide onto your own phone). http://historiska.se/home/
Moderna Museet
Lovers of modern art (and those who enjoy the confusion it can provoke) should visit the Moderna Museet. There are works by Picasso, Dali and Matisse, along with a rich collection of Swedish artists. The free admission even extends to some of the temporary collections. The building itself is eye-catching, if not exactly a beauty to the more conventional observers. http://www.modernamuseet.se/stockholm/en/
Skokloster Castle
Around an hour north of Stockholm and set on a tranquil lake, this magnificent baroque castle dates back to the 17th century, and is Sweden's largest private palace. The ground floor and some of the apartments, along with some temporary exhibitions, are free to visit; even when the castle is closed visitors are free to wander around the extensive gardens. http://skoklostersslott.se/en
The National Maritime Museum
A good place to learn about Sweden's maritime heritage and how its success in international trade created a wealthy nation. There are plenty of interactive exhibits for children to enjoy, and in the summer the museum includes a number of floating museum ships. http://www.sjohistoriska.se/en/
The Swedish Centre for Architecture and Design
Sweden has long had a reputation for contemporary design and its leading architects have been involved in some of the most eye-catching constructions around the world. The museum provides a hands-on introduction to the concepts of design, and kids are likely to find it a lot more entertaining than the name might suggest. http://www.arkdes.se/
You can explore Stockholm and its many museums as part of Sunvil Discovery's 7-night Stockholm and her Archipelago itinerary.