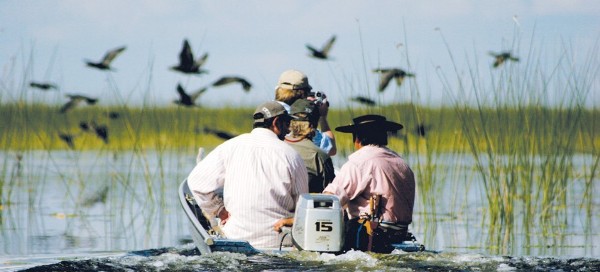 The Esteros del Iberá (Iberá Marsh) is the world's second largest freshwater wetland, and the largest protected area in Argentina. In effect it's a giant shallow basin holding millions of gallons of water from the region's rivers, streams and bogs, and this delicate environment provides a perfect home for a bewildering variety of mammals, birds, fish and reptiles; it's little wonder that the area is referred to as the Serengeti of the Americas.
For many years the area has been a favourite haunt of birdwatchers, with over 370 species including herons, kingfishers, storks and flycatchers, but there are plenty of other reasons for nature lovers to come to the wetlands. Mammals of the Iberá include marsh deer and howler monkeys (more often heard before they're seen), while lucky visitors might catch a rare sighting of a Paraná otter, a maned wolf or even a jaguar. Caimans live in the waters but are thankfully far less dangerous than their crocodile cousins, while anacondas are also known to inhabit the swamps of the reserve.
The landscape is one of vast plains of water dotted with reeds and occasionally what appear to be floating islands. Visitors can take guided boat trips on the lagoons to get close to the wildlife, or can take to the water under their own steam in kayaks or canoes. Meanwhile the many kilometres of walking and horse-riding trails take in both jungle, riverside and marshland.
Much of the land around the region was purchased in recent years by Douglas Tompkins, co-founder of The North Face clothing company. Years of political wrangling have seen Tompkins donate hundreds of thousands of acres of land to the state to help create a national park with the aim of protecting the wetlands and their rich wildlife. National park status will no doubt increase awareness of the beauty of Iberá to both domestic and international visitors.
The Esteros del Iberá is in the north of Argentina, around a 9-hour drive from Iguazu Falls. A good base from which to explore the region is the Puerto Valle Hotel. The elegant property, built around a 19th-century manor, sits beside the Paraná River and has only 13 rooms, offering a highly personalised service. The hotel restaurant uses herbs and vegetables from the organic garden next to the manor house, and in your room you'll even have your own supply of maté tea, the iconic Argentinian brew.
Sunvil Traveller can arrange tailored holidays to Argentina which include a visit to the Esteros del Iberá.