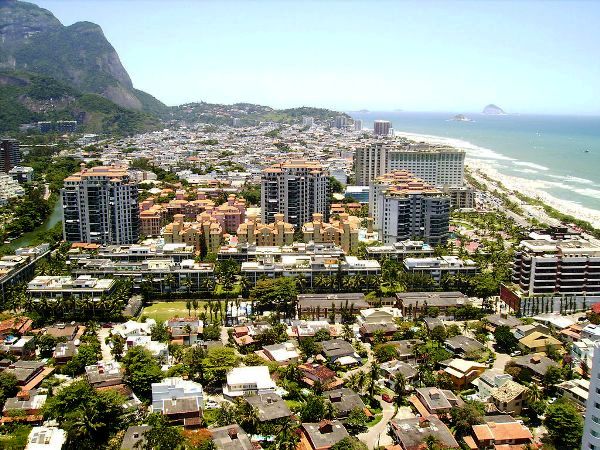 When the Olympic Games open on 5th August 2016, the eyes of the world will be on Rio de Janeiro. Or to be more precise, on Barra da Tijuca, where the Olympic Stadium has been built, along with the majority of the Olympic venues. The modern satellite city, some 10 miles to the south west of Rio, only really developed in the last 50 years, its rapid growth fuelled by the wealthier Rio residents looking for a safer, more spacious and less polluted place to live. While modern urbanisation has meant that Barra (as the city is better known) and Rio blend into one, nevertheless Barra is very much a city in its own right; it has schools, hospitals, shops and, as is a prerequisite for any major Brazilian city, its own favelas.
So what can visitors to Barra expect to see beyond experiencing its status as an Olympic venue?
The modernity of Barra is immediately striking. The influx of the middle classes has led to a swathe of luxury apartment blocks and enormous shopping malls. Many of the multinational companies have set up their offices around Barra, allowing their employees to avoid the ordeal of the notorious Rio traffic jams. It's a sign of the city's wealth that while Barra encompasses only 4.7% of the total population of greater Rio, around 30% of the city's taxes are collected from its residents. You'll find no shortage of restaurants, both Brazilian and international, along the waterfront and in the malls, while there's around 10 miles of long, sandy beach; the area is popular with surfers and hang gliders, but even more so with local folks running, walking and cycling along the beachfront.
Time will tell what the Olympic legacy of Rio will look like, and whether the stadiums in Barra will form part of the tourist trail for the city. Golf is a new addition to the 2016 Olympics and one of the most likely remnants of the games will be the golf course in Barra, set to become the region's first public course. Locals are hoping that the transport infrastructure set up to provide easy access for athletes, visitors and dignitaries will benefit the area for many years to come, with better links within Barra, as well as to the centre of Rio.
Barra da Tijuca will enjoy its moment in the Olympic spotlight, and once the circus has left town it's likely to remain an attractive place to visit, or even to stay, for visitors to Rio.
See the Sunvil Traveller site for more information about holidays to Rio de Janeiro.
Photo by: Dario Bittencourt Franco [CC BY-SA 3.0], via Wikimedia Commons