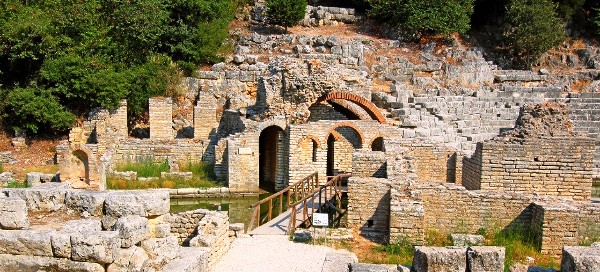 Along with Moldova and Belarus, Albania may share the accolade of least-known country in Europe. While most people will have heard of it, relatively few will be able to describe its main attractions, or give a convincing reason why they would wish to visit. A couple of decades ago this would be hardly surprising, given that the country was effectively shut off from the outside world in the Cold War years, and only slowly emerged from its isolation after the fall of the repressive communist regime in the early 1990s. Signs of those dark years remain, most visibly in the shape of the 'concrete mushroom' bunkers which litter the countryside. But while Albania's 20th-century history is undeniably interesting, it is its older treasures which are attracting a growing (if still modest) number of visitors.
From first hand experience, I found that travelling around Albania independently can be a challenge. Buses are dirt cheap, but those savings come at the expense of basic comfort and reliability. The informal furgon (minibus) network connects pretty much every part of the country, with vehicles leaving whenever they are full (or when the driver feels like leaving). In short, independent travel in Albania may suit those with large reserves of patience, time, and tolerance for discomfort; I certainly felt I'd had an adventure. For those visitors wanting to see the country without worrying about how they're going to get around, a private tour offers the best of both worlds; flexibility and comfort while still being able to learn at close quarters about this fascinating country.
My Albanian highlight was spending a couple of days in Berat, a charming town known mainly for its hilltop citadel (the long slog up to the fortress in the midday sun wasn't a highlight; this is a big benefit of having a private driver!). The fortress, or Kala, has been built on since the 4th century BC, with a succession of invaders leaving their mark. The site has Byzantine churches and Ottoman houses, and it's a wonderful place to explore slowly. There are 14 churches within the Kala, as well as a lovely iconographic museum, with icons collected from around the country. As we ambled around we came across a couple of wedding parties, using the fabulous views as a backdrop to their photoshoots. It's easy to spend several hours exploring the Kala wandering from church to church and enjoying the views.
In the modern town it's worth taking a look in the mosque in the main square, as well as exploring the whitewashed houses of the old town across the river. Berat comes to life in the evening, and the promenade near the river is full of families strolling and friends meeting. As with elsewhere in Albania, pizza and pasta are the most common dining options, while good quality ice cream, sold at ridiculously cheap prices, is a welcome legacy of the country's Italian legacy.
Sunvil Holidays offer an 8-day Private Cultural Tour of Albania which includes a visit to Berat. The tour can be done as a standalone holiday, or as an add-on to a holiday in northern Greece.
by Andy Jarosz