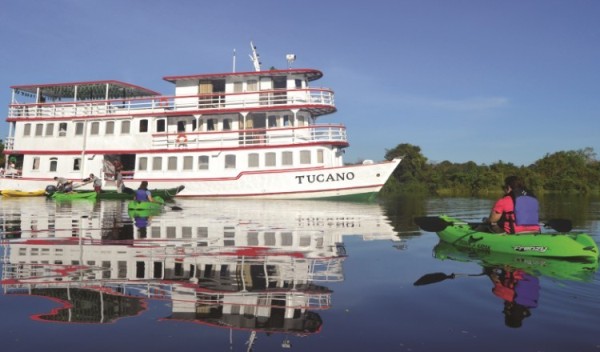 For many visitors to Brazil a chance to venture into the Amazon jungle, if only for a short while, is a highlight of their trip. There are many Amazon cruise options to choose from, on vessels ranging from small luxury boats to full-size hotel cruise ships.
Manaus is a city of almost 2 million residents on the banks of the Rio Negro, the largest tributary of the Amazon River, and it is from here that most Amazon cruise excursions depart. While larger cruise ships offer more facilities (such as pools, cinemas and multiple restaurants), the natural magic of the region is best uncovered away from these modern trappings. Smaller vessels allow for intimate exploration of the river and the rainforest, and are able to travel further and deeper than the larger ships. And while many cruises include village visits as part of their itineraries, these can be heavily commercialised affairs when a large group descends on a small community en masse; smaller groups have the opportunity to interact with local people in more authentic and less staged encounters.
The M/V Tucano offers 2 itineraries (4 nights and 6 nights) which explore the upper reaches of the Rio Negro. The shorter option takes in a lesser-visited stretch of the river north of Manaus, and includes the chance to take a night walk in the jungle, as well as daytime rainforest hikes. The longer cruise travels further into the rainforest and devotes more time to finding the region's unique flora and fauna. Both trips use naturalist guides to help interpret the landscape and identify wildlife sightings; electric-powered launches and kayaks can be used to get even deeper into the wild surroundings; don't forget to pack your binoculars. Despite the river's name it boasts some of the world's cleanest water and in good weather a cooling dip is very popular.
The Tucano has only 9 cabins, meaning that unlike larger vessels there's never any time lost in waiting for others to embark and disembark. Featuring wood panelling and nature-inspired artwork, the luxurious cabins include private bathrooms with pressurised hot showers; all have outside windows and are air-conditioned. There's a large salon where meals are served, along with an observation deck at the top, and a balcony around the front of the vessel. There's a caipirinha night during a typical cruise, and depending on the passengers on each particular trip, there might be a chance to try your hand at samba.
This 90-second video provides a little taste of life on board the Tucano.
Sunvil Traveller offer 4-night and 6-night Amazon cruises on board the M/V Tucano.