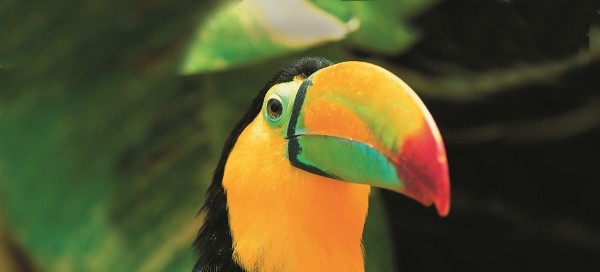 Central America is well known as a leading birdwatching destination, with many of the world's most brightly coloured birds, most of which are found nowhere else on the planet. While serious birders will head off for the day with binoculars, big camera lenses and checklists of birds they aim to spot, even the most amateur of wildlife enthusiasts will marvel at the spectacular discoveries they make in the Central American forests.
On the slopes of Atitlan Volcano in Guatemala, around an hour from the tourist town of Panajachel on the Atitlan lakeshore and two hours' drive from Antigua, Los Tarrales reserve is a protected natural forest which offers some of the country's finest birdwatching. The reserve was established as a coffee plantation and exotic flower farm, and thanks to a prolonged absence of hunting it has attracted a profusion of endemic species of birds and mammals. Threatened species which can be found here include the Horned and Highland Guan, the Azure-rumped Tanager, and the Pink-headed Warbler. And as if the many small, brightly coloured birds weren't enough reason to see this natural wonder for yourself, you're likely to see Black-Hawk Eagles and King Vultures riding the thermals high above the volcano's densely wooded slopes.
Birdwatching trips from Los Tarrales typically head into the forest and follow the complex network of trails; some routes require a 4×4 transfer from the lodge. Los Tarrales is very much set up to cater for birdwatchers, and the guides employed by the reserve are expert birders who between them have made the first sightings of several species. They will try to show each group as many of the park's species as possible; on some hikes over 100 bird species can be seen within a few busy hours. Butterflies are also prolific here, with over 270 species found within Los Tarrales. The reserve is so full of wildlife that you don't even have to make much of an effort to be rewarded with sightings: the fruit feeders around the lodge are regularly replenished and attract many bird species including hummingbirds, orioles, woodpeckers and tanagers.
Los Tarrales lodge has 10 rooms (all are simply furnished and include private bathrooms); meals are provided in the main dining room. The lodge is at around 750 metres above sea level, so the nights are typically pleasant without getting particularly cold. Near to the lodge is a small village and a coffee processing plant (coffee tours are also available). Some of the profits from the tourist activities at Los Tarrales go towards conservation of the forest, while the reserve also helps the local community by providing social support and funding the village school.
This short video made by one of the reserve's guides offers a glimpse of the species you can expect to spot during a stay at Los Tarrales:

Take a look at the example itineraries offered by Sunvil Traveller for holidays in Guatemala.