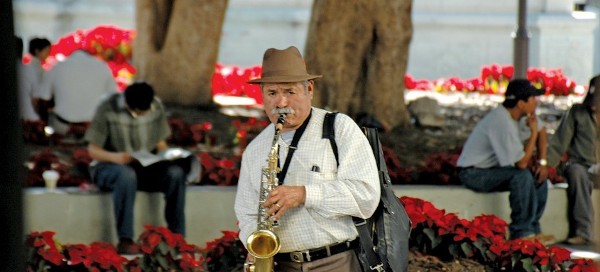 Oaxaca has long been considered a must-see destination on any holiday to Mexico, thanks to its cultural and culinary treasures. Now with improved internal air connections it has also become much easier to include a Oaxaca stop in a cross-country itinerary, without having to endure the long bus journeys which until recently were an unavoidable element of travelling around Mexico.
You simply cannot speak to anyone who has been to Oaxaca without them waxing lyrical about the local food. Forget any preconceptions you may have about Mexican food based on dining out at home; most 'Mexican' restaurants in Britain serve Tex-Mex dishes, and many don't even do that to a particularly high standard. Food is Oaxaca is taken very seriously; many of the local favourite dishes have their origins back in pre-Hispanic times, with recipes passed down faithfully through generations. The central market is a good place to indulge your senses. Vendors offer their own versions of mole (literally sauce), served with or without chicken; those who enjoy trying to pick out ingredients by taste alone with be severely tested, as the combinations of flavours and aromas are bewildering. For the most daring eaters look out for the fried grasshoppers which come with a kick (chilli, of course).
For a bit of sweet relief head out to the stalls to the south of the Zocalo (main square). Here you'll find (and smell) many chocolate sellers, and if you like your chocolate dark and rich (or even flavoured with chilli) you won't be disappointed. Cafes and restaurants tend to be laid back in nature with a focus on outdoor dining; when the winter evenings get chilly the atmosphere warms up in the cosy interiors. Expect dishes with rich, flavour-packed sauces; my own highlight of dining in Oaxaca was an outstanding white fish with a spicy lime sauce.
As elsewhere in Latin America, most of the outstanding architecture in the city is found in the form of churches. If you happen to visit around Christmas you won't fail to notice the elaborate cribs, some of which include life-size figures and some very creative interpretations. As well as providing a sanctuary from the bustle of city life, they're also a great place to sit down in the shade on a hot sunny day (most days in Oaxaca are hot and sunny).
While Oaxaca has one of the finest collections of colonial architecture in Latin America, the region was inhabited for many centuries before the arrival of the Spanish conquistadors. If you make the short trip to Monte Alban, you can explore the huge ruins of the former Zapotec capital. As early as the 1st century AD the city had an established system of law and government, and the grand nature of the buildings provides a hint as to the city's past glory. There's an excellent interpretative museum at the entrance (just about the only place with shade on the site, so bring a hat and plenty of water).
Sunvil Traveller offer a 16-night Highlights of Mexico itinerary which includes 3 nights in Oaxaca.