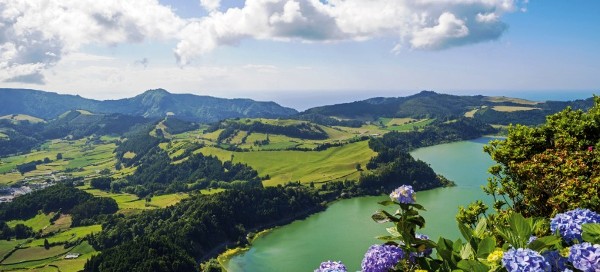 The Azores have for many years been a popular destination for walking holidays, but the islands' network of hiking trails boast one feature which few other places can match. Many of the walks on these mid-Atlantic islands pass around, or even through, some of the once-active volcanoes which have made this fertile landscape what it is today. You can plan a walking holiday on the principal island of São Miguel with routes which take in the island's volcanoes – here are a just few geological highlights you should include on a walking holiday in the Azores.
Lagoa do Fogo (Fire Lake)
This is a 5-hour trail which takes in one of the Azores' most beautiful high-altitude lakes and ends at a beach. The trail climbs to the crater rim of the Agua de Pau volcano following levadas (old irrigation channels), and from a height of around 600m the views down into the lake, and indeed across the island, are spectacular. The return takes you down to sea level and an opportunity for a refreshing dip in the Atlantic before returning to your hotel.
Sete Cidades (Seven Cities)
See our earlier blog about the walk around Sete Cidades. The area is dominated by an extinct volcano with twin crater lakes – one deep blue and the other emerald green. The walk around the rim can take several hours, and depending on the weather can be one of the most rewarding walks you're likely to experience anywhere, or a wet and cold experience inside a cloud. Check the forecast, dress and pack sensibly, and hope that good fortune chooses to reward you. The trail around the caldera is not a challenging one, and you can plan to finish the walk in either the tiny settlement of Sete Cidades, or in the nearby coastal village of Mosteiros.
Lagoa Das Furnas (Furnas Lake)
This is one of the most easily accessible volcanic areas, and indeed if you're staying at the Hotel Terra Nostra Garden in Furnas, you can start the walk directly from the hotel. There are short options, including a 2-mile trail which takes in the Monitoring and Research Centre, a local project with aims to protect the valley's ecosystem. A trail which takes in a full circuit of the lake is around 7 miles and should take 3 to 4 hours. If you're heading back from Furnas to Punta Delgada you'll also pass what is Europe's only tea plantation.
Sunvil offer a 7-night Walking Inside Volcanoes Azores itinerary which takes in 6 walks of varying lengths and which explores all of the volcanic highlights mentioned in this post.