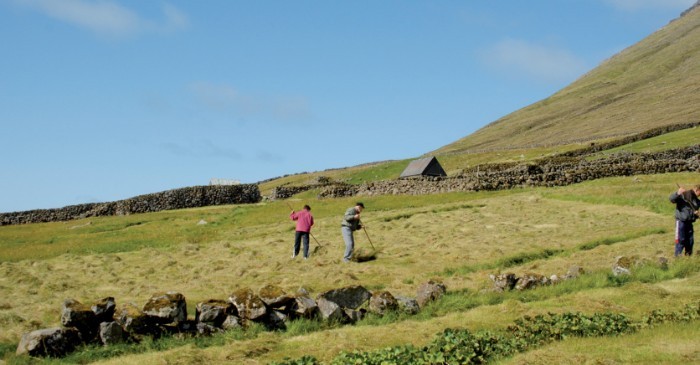 It's too small an island to justify a regular boat schedule. A helicopter stops by three times a week to deliver supplies (and presumably news) from the mainland. Yet for the two residents of Koltur, one of the smallest of the 18 main Faroe Islands in the North Atlantic, this isolation has not deterred them from being its sole guardians for the last 18 years. Now the government has declared the island of Koltur a national park and hopes to encourage a steady flow of visitors, curious to experience a slice of traditional Faroese life.
Koltur wasn't always so isolated. Until the 1980s the island buzzed with two resident families. Bizarrely, the two groups were not on speaking terms and had not been for several generations. It was said that the most recent families couldn't even remember why their ancestors had stopped speaking to 'the other side'. But economic hardships meant that both families moved to the bigger islands and left Koltur temporarily uninhabited.
The ruins of the old houses are now protected by the state, such is their cultural and historical importance as examples of traditional Faroese dwellings. The houses display the best preserved heimrust in the Faroes; these are common areas that were used for living, storage and work. Narrow strips of arable farmland provide a clue as to the incredible work that generations of islanders would have put in to getting crops to grow in this inhospitable climate.
There are various plans afoot to develop the site of Koltur to welcome visitors and display what is a fascinating history and way of life that lasted until the late 20th century. It is a unique site in terms of Faroese (and indeed Nordic) heritage and those involved in preserving and restoring the island's agricultural and architectural treasures are determined to get it right. It is envisaged that visitors will be able to experience the natural wonder of Koltur (with great hiking and bird-watching opportunities) while at the same time learning a little bit about the traditional way of Faroese life.