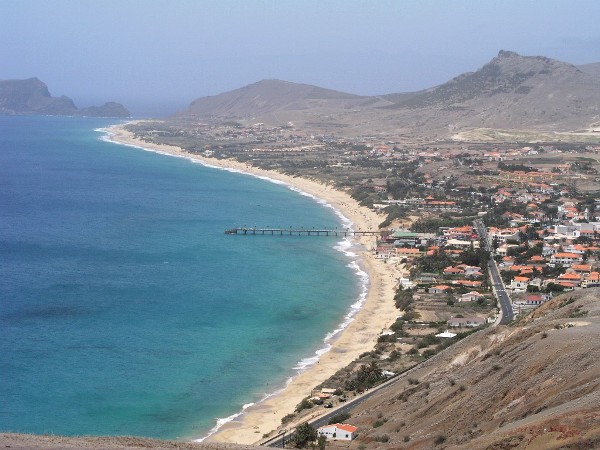 Madeira has for many years been a popular holiday destination for those looking for a peaceful island with a gentle pace of life, a mild climate and a spot of relaxation. For those who like the idea of a Madeiran holiday but who prefer their islands even more remote, Porto Santo might offer the perfect alternative.
Lying around 40km east of Madeira, this tiny island does have an airport and a golf course. But its big draw is its 9 km stretch of golden beach along its southern shore. While Madeira is famous for its lush green hills which have made it so popular with walkers, Porto Santo appears to be almost devoid of vegetation, particularly along its southern side.
There's little dispute about Porto Santo's most famous resident. Christopher Columbus lived on the island for several years and married the daughter of the island's founder in the main/only town of Vila Baleira. His modest house is now a museum. The house has drawings of Columbus's journeys and copies of the original maps, along with a model of one of his boats. There are also a couple of portraits and a random collection of object from the 15th and 16th centuries.
The airport pretty much covers the whole width of the island and its construction in the 1960s and 70s played a major role in boosting the island's tourism. There are a few hotels and there's enough to do for those spending a few hours or even a few days on the island, with windsurfing and island tours available, along with several good hikes in the island's small but rugged interior. The golf course is of international standard and plays its part in attracting visitors to this Madeiran outpost.
Porto Santo is easily reached by a 15-minute flight from Madeira (several flights operate daily) or by a 2-hour car ferry crossing. Both of these options make it a viable day trip for those staying on Madeira, with the ferry offering a relaxing mini-cruise to Porto Santo.
Find out more about day excursions to Porto Santo from Madeira.
Photo: "Porto Santo – vista geral" by Bem bom at pt.wikipedia – Own work. Licensed under CC BY-SA 3.0 via Wikimedia Commons.