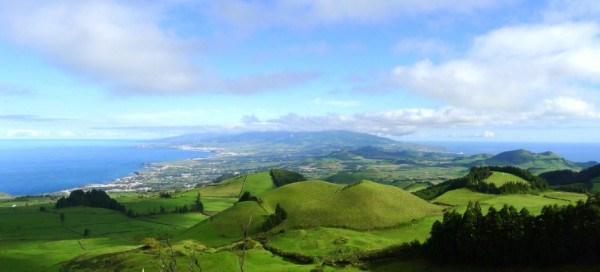 The island of Sao Miguel is the largest of the nine which make up the Azores archipelago. Look at a map of Sao Miguel and you'll see two mountain ranges in the west and the east of the island; when lava from volcanic eruptions first peaked above the Atlantic waves around 4 million years ago, there were in fact two islands. Over time the rock deposits from further eruptions increased the height of the two islands, and eventually joined them together. The now-single island continued to grow with regular eruptions spewing out more lava. The growth and collapse of the calderas at both ends of the island led to a cycle of volcanic lakes forming, disappearing and reforming. Volcanic activity has continued until relatively recent times, with major eruptions seen by early settlers in 1563 to the west of the island around Sete Cidades, and in 1630 to the east at Furnas.
The volcanic landscape remains one of the major draws for visitors to the Azores, and Sao Miguel has plenty of geological attractions. The bubbling fumaroles and hissing sulphur vents at Furnas are easily accessible thanks to the historic Terra Nostra Garden and Hotel. But to the west, the mountains around Sete Cidades (seven cities) provide an altogether more remote and arguably more rewarding area to explore. There is a small village here by the side of the volcanic lake, but away from its orderly collection of modest white-washed houses and a church, the main attraction of the area is the opportunity to experience Azorean nature at its finest. There's a highly-acclaimed hike which pretty much follows the caldera rim and takes a full day's walking to complete – the beauty of the hike is in the views, so it's not worth doing if the clouds are low and the weather isn't behaving.
If a full day's walking doesn't appeal, there's the option of a jeep tour. Full day excursions of the west of Sao Miguel take in Sete Cidades and can climb to the crater rim to offer a glimpse of the great views on offer.
Sete Cidades is also an excellent place to look out for the island's many bird species; native species, such as the Azorean wood pigeon and the goldcrest can be seen here, while the lake offers a sheltered spot for ducks and geese. It's not unusual to see migrating birds in the area, having strayed off course on its long journey (or maybe they merely take a welcome rest and enjoy the scenery).
It's easy enough to appreciate the natural beauty of Sao Miguel without getting bogged down in its geological hows and whys; but for those wishing to get a deeper understanding of the island's volcanic mysteries, a geology tour offers the chance to learn and be entertained by an English-speaking geologist.