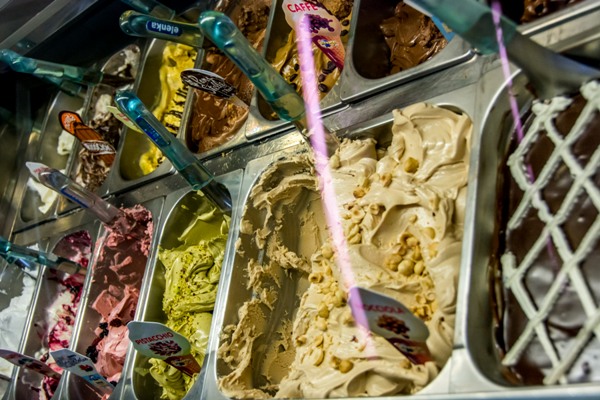 Few people spend a holiday in Italy and fail to fall for the delights of gelato, the Italian version of ice cream which brings so much joy to so many. I discovered that even Italian men, known for their machismo (which is, after all, an Italian word), break out in a boyish grin when quizzed about their favourite gelaterias, and many will speak with the same passion as they do about football. The idea of frozen desserts has been around in Italy for over 1000 years; back in the 9th century the Arab occupiers of Sicily brought Etna's snow to the coast and mixed it with fruit juices to make granita, an intensely refreshing sorbet-type concoction. Gelato as we know it arrived in Italy in around 1500. The process of making the perfect gelato is taken so seriously that there's even a university course dedicated to the subject.
So on a holiday to Italy how can you experience the best of this low-fat frozen delight? (yes, it has 70% less fat than ice-cream; just don't ask about the sugar content!)
Every Italian will eagerly offer their recommendations. In my painstaking research I discovered that the most highly rated gelato is rarely found in the big fancy shops which have giant freezers with dozens of exotic flavours. They are more likely to be seen in unremarkable freezers in a humble bar where the owner has been practising his craft for many years and has perfected a small but high quality selection of flavours.
As with other elements of Italian cuisine, the quality is wholly dependent on the freshness of the ingredients. It's wise to ask if the gelato is made on the premises and whether the fruits or nuts are fresh (some larger places use pastes and powders rather than the real products). I found that English was rarely spoken in these traditional bars and I had to resort to badly-broken Italian with a liberal sprinkling of unconvincing hand gestures (have you ever tried to mime a pistachio?). The effort can be frustrating (and it can be a lot of fun); the rewards are always sweet.
Perhaps the most important tactic in finding the perfect gelato is to discover what fruits are in season and what is the local speciality. The remote town of Sinagra is in northern Sicily and is known for the quality of its hazelnuts. On my drive into Sinagra I had to negotiate a dizzying series of hairpin bends as I dropped into a valley lined on both sides by thousands upon thousands of hazelnut trees. Gaetano is the owner of the Pasticceria Calamunci cafe and bar, and he happily took me into his basement kitchen where his son Virginio was making a fresh batch of hazelnut gelato. It's a proper family business, and Gaetano told me that his son was currently at the gelato university in Brescia. I watched as Virginio poured out the base mixture of milk and sugar and added a crushed hazelnut paste. I looked at the brown and gooey mixture and asked what else was in there apart from the nuts. "Nothing," Gaetano told me. "Nothing at all. It's 100% hazelnut. The liquid texture is purely from the nut of the oil." Gaetano has won national awards for his hazelnut gelato, and a moment later I understood why as I enjoyed a fresh sample straight from the machine. It was apparent to me that making the best gelato is not just a science; it's very much an art.
by Andy Jarosz
See the Sunvil website for details of holidays to Italy.