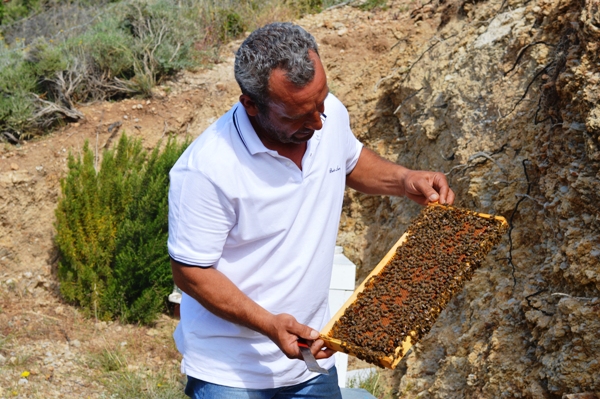 Ikaria has long held a special place in Greek mythology. It was the birthplace of Dionysus, the god of wine, and is named after Icarus, he of the wax wings who flew too close to the sun. The island has also received modern-day fame thanks to the longevity of its inhabitants. Studies have shown remarkably low levels of heart disease, dementia, diabetes and cancer; islanders put their good health down to a combination of diet, social life, outdoor activity and (of course) red wine.
While you may not be able to guarantee a telegram from the Queen simply by booking a two-week holiday in Ikaria, there are plenty of opportunities during your stay to experience a little of what makes the island so special. Here are a few suggestions.
Bee Keeping
Bees (or to more more precise, jars of honey) are a big part of Greek life. Not only is it delicious, but honey is also credited with anti-inflammatory and anti-bacterial properties; it's hardly surprising therefore to find it in abundance on Ikaria. While nobody can be expected to become an expert beekeeper within a couple of days on holiday, an introduction to beekeeping offers visitors a chance to learn about the different types of honey (which is dependent on the nearby pollinated plants), and to meet local beekeepers who will share their expert knowledge and explain how bees live and organise themselves.
Picking and Harvesting
Regardless of when you come to Ikaria, there's nearly always something to harvest. In Spring the wild flowers and herbs grow rampantly in the fields and along the old pathways. Summer is the time to pick fruits in the orchards in preparation for jams and syrups, while the autumn brings about the busy harvest of olives and grapes. Even in the winter months you'll find mushrooms and oranges ready to collect. Small groups are taken on organised walks and into local farms to take advantage of the seasonal produce.
Pie Making
Greeks take their pies very seriously, and it's perfectly normal to tuck into the flaky pastry concoctions (most commonly with cheese and spinach) at any time of the day. A pie-making workshop involves collecting the ingredients locally, before working with an expert baker to produce the perfect dough and filling. The climax of the workshop is, of course, the feast at the end.
Soap Making
While many soaps are made with environmentally damaging palm oil, here on Ikaria the local soaps and creams use olive oil and goat milk, along with herbs and flowers which are collected from around the island. The soap making workshop allows participants to learn about the ingredients and how they are used. It's a hands-on session and you get to make your own soap; it's up to you whether you want to produce something that's fragrant, creamy or anti-septic.
Greek Dancing
What better skill could you demonstrate to your friends when you get home than a newly discovered ability to dance. There are literally thousands of traditional Greek dances, and as well as perfecting the steps of a few of these, participants in the dance classes will gain an appreciation of the importance of the dances in the social life of the islanders.
See the Sunvil Holidays site for more Ikaria holiday ideas.