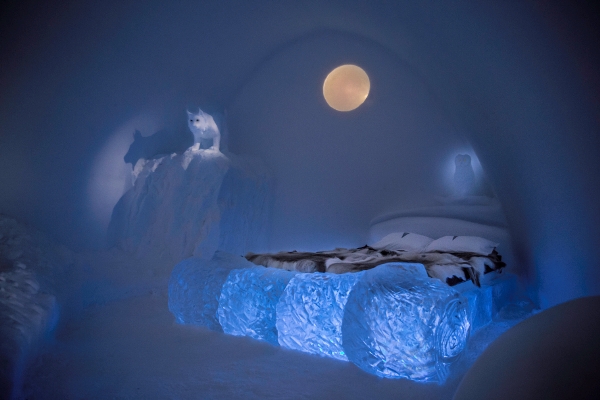 The ICEHOTEL will this year be celebrating its 27th edition. Just as every year since 1990, the building materials for the hotel will be harvested from the Torne river, and the hotel constructed in what is now a well-oiled process; each year there's a new twist of design which helps entice curious visitors to come back again and again for what is a unique experience (see Staying at the ICEHOTEL in Sweden for details of what to expect).
But this year ICEHOTEL is offering something truly different. Whereas the hotel has in previous years melted out of existence as the winter has turned to spring, a hotel is being constructed from ice which will remain in place all year round. ICEHOTEL 365 will use solar energy to keep the rooms at a constant temperature, so that even during the endless summer days when the midnight sun skirts the horizon but never sets, visitors will still be able to enjoy their hotel rooms at a toasty -5°C. In fact it will be quite a surprise for previous guests who will have only experienced the hotel in total or near-total darkness.
The ICEHOTEL 365 will be an addition to the now-famous winter construction, which will be created next to it. The year-round version will have 20 rooms and suites, each with its own sauna and bathroom, as well as an ice bar and an ice sculpture gallery. The creators of ICEHOTEL say that the gallery will be the largest permanent art exhibit north of Stockholm.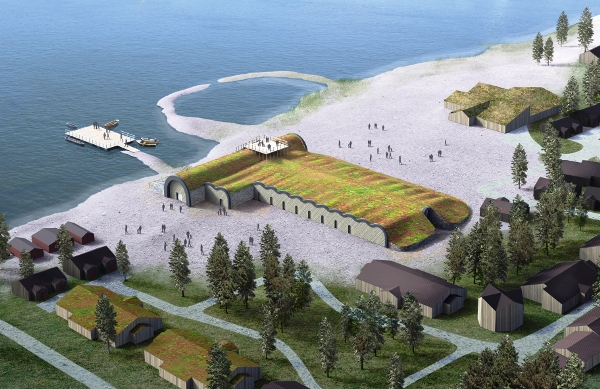 Perhaps best of all, visitors will be able to experience the magic of the ICEHOTEL by night, and yet enjoy the many memorable summer experiences which the region has to offer during the different seasons, such as fishing and river rafting. And while the aurora borealis (or Northern Lights) attracts thousands of visitors to the Arctic region in the darkness of midwinter, in fact the natural phenomenon can be seen from late August all the way through to early April. Aurora purists might argue that seeing it without the biting winter temperatures isn't the real deal, but from experience there's a lot to said for enjoying the dancing lights on a (relatively) mild evening when you don't have to worry about the glass of wine in your hand suddenly freezing.
Sunvil Discover offer a 4-night Earth and Water itinerary which includes 2 nights at The ICEHOTEL the 2 nights at the equally unusual TreeHotel.
Images: ART & DESIGN book 2015, ICEHOTEL, iCelebrate25, Suite 315, Polar Night design by Hans Abrahamsson och Ann-Louice Abrahamsson; ICEHOTEL 365 Summer. Illustration by PinPin Studio.